Alcohol & Drug Addiction Services Victoria BC
Life Happens at Home, Recovery Can Too With Online Addiction Treatment
HBR offers affordable alcohol and drug treatment, including intensive recovery coaching support, all accessible from the comfort of your home or wherever you might be.
Call, text or email for a no-charge consultation.
Overcoming Substance Use Challenges at Home
Maintaining Family and Responsibilities
Overcoming substance use concerns, alcoholism, drug addiction and mental health challenges doesn't have to mean leaving loved ones behind or abandoning important obligations. Participating in treatment at home means you can continue to care for your family, maintain your responsibilities and keep your life evolving alongside you.
Alternative to Traditional Treatment

We know traditional inpatient treatment or IOP isn't right for everyone. However, we don't believe this should be a barrier to accessing help. Home Based Recovery provides an alternative solution to traditional treatment.
Accessible, Quick Admission & Onboarding

Each client is pre-screened for admission to the program by a qualified and licensed addiction therapist. We have no waitlists and onboarding can happen quickly.
HBR Offers a Flexible & Supportive Online Rehab
Tailored Learning for Any Schedule
Our home-based online addiction treatment and recovery program is flexible and supportive — providing our clients with daily online psycho-educational video content and dynamic learning modules that fit their unique schedules and needs.
Personalized Recovery Coaching
Clients are matched with a Certified Recovery Coach a.k.a. Sober Coach from the start with multiple one-on-one sessions per week and then weekly for six months after the core program ends.
Expert Guidance for Your Journey

Wherever your recovery roadmap leads, our specialized team of mental health, substance use and addictions experts are here to help, providing world-class education, dynamic learning modules and practical tools for recovery throughout the program.
We've Been There,
We Can Help
The road to recovery, though worthwhile, isn't always easy. It is worth it, and sometimes you need a little help.
Our broad range of mental health, substance use, and addictions specialists and experts are here to lend a hand. Dr. Michael Berry, R. Psych, introduces Home Base Recovery in the nearby video.
Click the video above for an "Introduction to HBR."
Home Based Recovery for Individuals is an innovative online or in-person drug and alcohol treatment program that helps people reclaim their lives from the pattern of behaviours that stem from substance use and addiction.


Convenient, home-based solution
Educational modules delivered by leading addiction experts
Regular, real-time support with a Certified Recovery Coach
Six months of aftercare support
Affordable world-class treatment
The same quality of care and education found at in-patient rehab facilities
Home Based Recovery for Friends & Family was developed utilizing the CRAFT Model of Addiction concepts to assist loved ones of individuals struggling with addiction.
Learn how to offer support and encourage your loved one to make healthier choices that move them towards treatment
Understand your role, as a friend or family member, in the recovery process
Build the tools needed to best support yourself and your loved one
CRAFT Model of Addiction is a proven method
In addition to our virtual services described above, HBR also offers in-person support at our clinic located in Victoria, BC at #245–3066 Shelbourne Street.
In-person addiction support services include:
Psychological + Neuropsychological Assessments
Substance Use Assessments • Family Support
Recovery Coaching • Recovery Groups
Confidential Addiction treatment in Canada
Reach out to the HBR team for a free consultation. We will discuss your options and help you determine the best path for your recovery journey.
Why Choose Addiction Treatment at Home?
You will experience effective addiction treatment from the comfort of your home, supported by evidence-based content and one-on-one coaching.
Developed in Victoria, British Columbia, on Vancouver Island, HBR is built on evidence-based video and skills building content and an innovative approach to providing affordable addiction treatment to those with substance use disorders whether that be alcohol use disorder or drug dependency. Our online outpatient addiction treatment or IOP program offers flexible daily activities, one-on-one coaching sessions with a Certified Recovery Coach, integrated skills and self-care education, and personalized recovery plan development.
6 Months Aftercare Support
Our ongoing support will ensure your recovery journey extends beyond our program, providing guidance and assistance for long-term success.

Our six-month ongoing recovery coaching and support ensures your recovery continues beyond our core program, helping you to thrive long-term. Even with a full tool belt, life outside the program can present new challenges and we stay connected to help you navigate them. Recovery Coaches have lived experience and will walk alongside the client to help them enhance their treatment and recovery experience and help with accountability and navigating the various nuances of change.
Online Addiction Treatment
Recovery at home provides you with a less-stress healing process, allowing you to prioritize both your well-being and family life. 
By launching the Home Based Recovery online rehab, we bring the recovery process to you, eliminating some of the major stressors involved in traditional inpatient alcohol rehab. Less time worrying about your life at home means more headspace for the things that matter — like your recovery and family! Recovery at home allows you to begin your healing journey while still making your niece's big soccer game, helping your son with his math homework, or continuing to walk your dog every morning.
Home-based recovery not only helps individuals but also equips their loved ones with tools to heal and support the recovery journey. 
Healing isn't solely reserved for those of us struggling with addiction or substance misuse. Did you know that home-based recovery can not only help individuals reclaim their lives from drugs and alcohol but offer their loved ones the tools they need to heal and support the recovery process? We utilize the evidence-based CRAFT Model of Addiction approach in our work with families. Here is a great article on "how to help someone with an addiction." At HBR, family can also be involved in your recovery process if you wish.
Our 100% virtual program tailors addiction treatment to your unique needs, setting you up for success in your real-world environment.
Overcoming addiction is not a one-size-fits-all process. That's why we built a 100% virtual IOP addiction treatment program that reflects the many potential pathways of recovery. By custom fitting our program to your life, we are able to set you up for success in the real world. Whether this is your first time accessing professional support or have had addiction treatment in the past — HBR can be utilized on its own or combined with ongoing therapy and other professional supports.
With easy access to high-quality addiction treatment from the convenience of your home, financial burdens are considerably lessened.
We believe that everyone deserves access to the help they need, which is why our online recovery program is centred around accessibility. Participating with HBR at home eliminates the logistics of travel and expenses for our clients and allows us to offer our world-class addiction treatment content and support at a lower cost, taking the financial strain out of the equation. In patient alcohol treatment on Vancouver Island is not accessible to most.
Home Based Recovery Offers a New Road to Addiction Recovery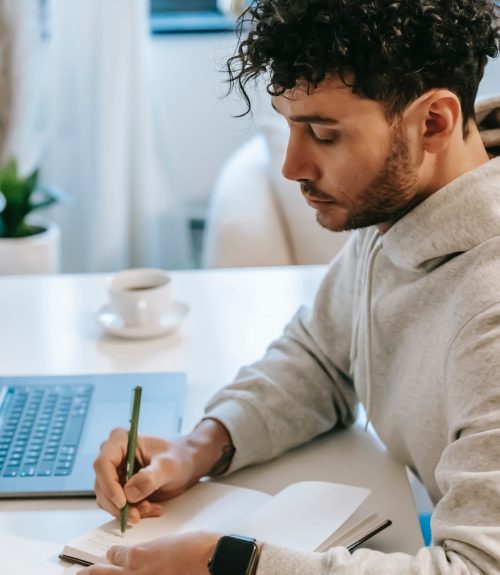 What are the Challenges of Inpatient Addiction Treatment?
The first step to real change is acceptance, the second is seeking the right help and following through. But what happens when the process of receiving help causes additional pressures?
Traditional inpatient addiction treatment can add stress because you are leaving loved ones and  responsibilities waiting back home. The cost of in-patient rehab is out of reach for a lot of clients. Many even find the prospect of packing up and leaving their everyday lives too daunting to consider.
When the current recovery process causes undue stress, HBR offers a convenient cost-effective way to access professional programming and support at home. 
How Does HBR Provide an Alternative to Traditional Alcohol & Drug Rehab?
Inspired by the lived and professional experiences of our team members and energized by a shared passion for helping others, our world-class specialists set out to change how we approach drug and alcohol dependencies in modern treatment.
By making one simple yet impactful change to traditional addiction treatment, we are able to provide a foundation for long-term sustained change while keeping our program more accessible and affordable than inpatient alternatives.
The key to success is right in our name: recovering at home. Home Based Recovery can be accessed from any city or province in Canada or anywhere in the USA.
Where Expertise Meets Lived Experience.
HBR team members are real people, with real experiences and stories. Just like you.
We know how to successfully guide you through your recovery journey because we're a top team of mental health, substance use and addictions specialists and experts. 
Just as important, we know the challenges you'll face and the tools you'll need to overcome them, because we've been in your shoes.
We're real people who came together to create a program that addresses the some gaps we saw in our field. We're proud to offer up proven tools and methods delivered with modern digital online innovation in mind. 
Alcohol & drug addiction treatment Victoria BC VANCOUVER ISLAND Canada
Speak to a team member about whether our treatment program is right for you. Completely confidential. We're here to help.